M.D Desk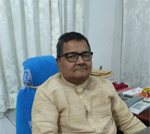 As Managing Director, it is my pleasure to introduce the company. Marvelous Journey of 30 years from a small wooden shop (Goomti) size shop to multi brand conglomerate business diversified in retail, wholesale, & distribution of Educational books, Stationery items, Paper products & complete school Uniform.
In a journey of 30 years form proprietorship firm to pvt. Ltd. Company became the market leader of Bihar & Jharkhand in Book trade having 10 branches, 15 Franchisee outlets & 10 exclusive distributors, the largest distribution network almost present in each & every district of Bihar & important centers of Jharkhand.
In a journey of 30 years from a small book seller we became a largest distributor of eastern India of NCERT & so many publications of National & International repute. Our company is the largest distributors in India for so many publishers.
Starting from no staff now this company has about 200 skilled; Semi killed highly skilled employees having all facilities. We believe in "Sky is the limit".
It is my belief, that despite the variable system of education in wide spread provinces, India continues to be rather well- positioned to achieve sustainable position in education success and growth in this very challenging environment. The demand of quality resources for proper education, classroom infrastructure requirements, and measures promised by the government towards improving the rural/urban education as well as initiatives being taken by the government in ensuring financial inclusions at all from of education institutions will generate sufficient improvement and propel growth.
We, as Gyan Ganga Ltd, are always growing rapidly in changing the conventional business, and adding value to the untouched arena. We always remains consolidated to achieve leadership in various fields related to education, we serve and committed to expand with demand of time.
We, as a Team, work for a common vision to achieve and remain market leader; by introducing in products that meet real needs of education industry and to create an elegant work culture based on trust, team work and innovation.
We have faith in our mission values, ethics and hard work to attain higher productively, diversification and growth.
I am fully confident and assure that Gyan Ganga shall continue to so it's best in terms of product, services and most importantly for education industry.
BHARAT SINGH
Managing Director